Top-Notch Paver Restoration In State College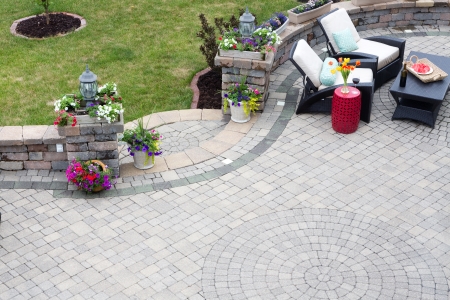 United Restoration and Exterior Cleaning is proud to offer professional paver restoration services to State College that will revive the beauty and longevity of your outdoor spaces. With years of expertise in the industry, we understand the wear and tear that pavers endure over time, whether it's due to harsh weather conditions, heavy foot traffic, or the growth of unsightly weeds and moss.
At United Restoration and Exterior Cleaning, we are committed to delivering exceptional results and exceeding our clients' expectations. Whether you have a residential driveway, patio, or walkway, our paver restoration services will transform your outdoor spaces, making them look brand new and enhancing the overall curb appeal. Trust our pressure washing in State College to revitalize your pavers and create a stunning outdoor environment that you can enjoy for years to come.
Our Restoration Process
United Restoration and Exterior Cleaning takes pride in our meticulous paver restoration process, designed to rejuvenate all types of masonry surfaces. Our comprehensive approach ensures that your pavers regain their original beauty and withstand the test of time.
The first step in our process is thorough cleaning. We employ powerful pressure washing techniques to remove dirt, grime, mold, and weeds from the surface, leaving your pavers looking fresh and vibrant. We pay close attention to detail, ensuring every nook and cranny is thoroughly cleaned. After cleaning, we move on to the sanding phase. We carefully reapply polymeric sand to fill in the joints between the pavers, promoting stability and preventing weed growth. This step ensures a uniform appearance and reinforces the structural integrity of the entire surface.
The final crucial step is sealing. We apply a premium-grade sealer that acts as a protective barrier against UV rays, stains, and water damage. This sealant not only enhances the color and natural beauty of the pavers but also extends their lifespan by preventing cracks, erosion, and other common forms of deterioration.
United Restoration and Exterior Cleaning's paver restoration process is a comprehensive solution that brings new life to your masonry surfaces, providing long-lasting results that you can enjoy for years to come. Make the call to our team today and get the paver restoration services you need for your State College home today!
Providing Paver Restoration & More To State College Properties
With our expertise and attention to detail, United Restoration and Exterior Cleaning can transform your outdoor spaces, making them look as good as new. From cleaning and sanding to sealing and protecting, our paver restoration process ensures longevity and enhances the aesthetic appeal of your masonry surfaces.
In addition to paver restoration, we offer comprehensive driveway cleaning services. Our team utilizes advanced equipment and techniques to remove stains, oil spills, dirt, and debris, leaving your driveway spotless and inviting. We understand that your driveway is often the first impression visitors have of your property, and our expert cleaning services will help you make a positive impact.
At United Restoration and Exterior Cleaning, we are dedicated to delivering exceptional results and customer satisfaction. Whether it's paver restoration, driveway cleaning, or other exterior cleaning needs, our experienced team is committed to exceeding your expectations.
PROTECT YOUR PROPERTY FROM GRIME! SCHEDULE QUALITY PRESSURE WASHING IN State College & THE SURROUNDING AREAS!