Dependable Pressure Washing Company in Lewisburg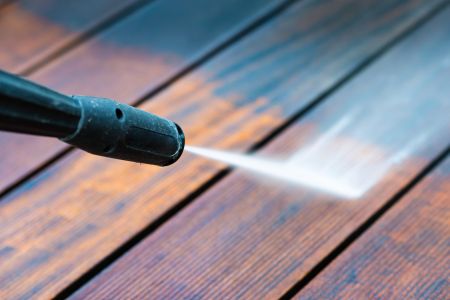 Looking for pressure washing services in Lewisburg that won't break the bank? United Restoration and Exterior Cleaning is the business to call. We offer a wide selection of pressure washing services that are sure to impress and satisfy your needs.
Our business has years and years of experience working in the Lewisburg area, delivering quality results to homeowners and commercial property owners. The exterior surfaces we work on look like brand new when we're done with them.
Check out some of our most sought-after pressure washing services below:
Building Washing
Commercial Roof Cleaning
Fence Cleaning
Window Cleaning
Gutter Cleaning
Parking Lot Cleaning
Sidewalk Cleaning
If you're interested in the services we've mentioned, be sure to contact the professionals at United Restoration and Exterior Cleaning to get all of the information you need to schedule a service for your property. For now, you can read on to learn more about two of the most popular pressure washing services we offer.
Giving Lewisburg Residents Quality Roof Cleaning
Roof cleaning is an incredibly important pressure washing service to invest in. We offer this service for both residential and commercial clients as a way to protect and cleanse their roofs here in the Lewisburg area. Roof cleaning yields the best results when invested in at least once per year.
What this service does is protect your roof from the damage that unchecked pollutants can cause. It gets rid of heavy stains, dirt, grime, mold, and more in a flash. Your roof will look and feel better and give you the peace of mind you need when it comes to your Lewisburg home or property.
Learn More About Our Lewisburg House Washing Service
House washing is another important pressure washing service we offer Lewisburg residents. This service also acts as a protective and cleansing service for the exterior walls of your home. You can use this service for its intended purpose or as a way to boost your curb appeal.
No matter what your reasons are for investing in house washing, your Lewisburg home will be free of mold, grime, dirt, stains, and so much more. You will finally be able to feel confident in the appearance of your home without worrying about the damage that nasty pollutants can cause you and your family.
Contact the professionals at United Restoration and Exterior Cleaning today to learn about scheduling this service.
Reviews and Testimonials for United Restoration and Exterior Cleaning in Lewisburg
PROTECT YOUR PROPERTY FROM GRIME! SCHEDULE QUALITY PRESSURE WASHING IN State College & THE SURROUNDING AREAS!