Skilled Mifflinburg Pressure Washing Services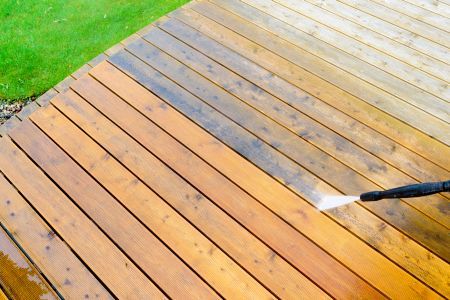 In search of quality pressure washing services here in Mifflinburg? United Restoration and Exterior Cleaning is the business to call. We offer some of the best assortment and availability of stellar pressure washing services built to restore and cleanse your exterior surfaces here in Mifflinburg.
When you choose our team, you're choosing to invest in years of experience, endless knowledge, and plentiful services. We are proud to offer a great variety of both commercial and residential pressure washing services for the residents of State College. In fact, here is a list of some of them:
Gutter Cleaning
Fence Cleaning
Driveway Cleaning
Sidewalk Cleaning
Parking Lot Cleaning
Building Washing
Deck Cleaning
If you're interested in investing in any of the abovementioned services, you can contact United Restoration and Exterior Cleaning to learn more about how you can schedule a service for your property. For now, you can read on to learn a bit more about a few of our most popular pressure washing services.
Giving You Here In Mifflinburg The Best In Roof Cleaning
Residents of Mifflinburg deserve the best when it comes to pressure washing services, and that includes roof cleaning. Roofs are a very important part of any structure, especially of a home. In order to best protect and maintain the roof, you should consider investing in roof cleaning services.
An annual cleaning will help keep your roof fresh and clean, as well as protect against the dangerous pollutants that can be rather nasty. Your roof truly does deserve the best in service and care, so why not choose the best provider of pressure washing services in Mifflinburg?
Learn More About Our Mifflinburg House Washing Service
House washing is a service that cleans the exterior walls of your home here in Mifflin burg. It gets rid stains, grime, mold, and more in a flash. When you choose to invest in this service, you're choosing to invest in the health and longevity of your home, the biggest investment of your life.
When we are done with the job, your home will shine under the sun. All those ugly stains will be gone and you will have the confidence you need. If you want to experience this and help make your Mifflinburg home a beautiful haven, be sure to contact United Restoration and Exterior Cleaning today to learn how you can schedule house washing services.
Reviews and Testimonials for United Restoration and Exterior Cleaning in Mifflinburg
PROTECT YOUR PROPERTY FROM GRIME! SCHEDULE QUALITY PRESSURE WASHING IN State College & THE SURROUNDING AREAS!