About United Restoration and Exterior Cleaning - A Trusted State College Pressure Washer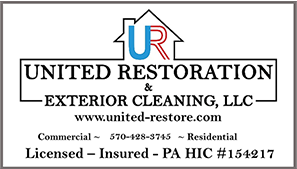 United Restoration and Exterior Cleaning simply offers the best pressure washing services that a pressure washer team can in the State College area. We know that you have your pick of the litter when it comes to pressure washer providers, so we're here to tell you all about us and what we do to restore and perfect your exterior surfaces.
Our mission is to provide superior power washing services to all of Central Pennsylvania and surrounding areas.
Commitment To Service
For the best pressure washing in the State College area, you can depend on United Restoration and Exterior Cleaning to get the job done right the first time around. Our team of pressure washer experts is 100% committed to ensuring that your exterior surfaces are clean and looking better than ever.
Our commitment to service is above all the rest and you're sure to be satisfied with what we can offer you.
A Few Words From Our Owner - Adam Snook
"Our goal is to provide the highest quality exterior cleaning experience to our customers. We consider every project an opportunity to acquire a lifetime customer. Above all, we strive to complete every job to the highest standards of quality, and in doing so, we are confident we can earn your trust. We utilize modern technology to make estimating, billing and payment processing as convenient as possible. From the moment you reach out for an estimate to the final walk-around, we strive to make the process smooth and convenient. We go above and beyond with protecting your property through preliminary property inspections, state-of-the-art cleaning techniques, a personalized walk-through at the completion of the job, and a follow-up call to ensure your satisfaction. Trust in us to put our best foot forward each and every time. "
Services Unlike Any Other
We know that in State College there are plenty of pressure washers that will promise the best services at the best prices. Here at United Restoration and Exterior Cleaning, we can guarantee those promises 100% of the time. We offer a wide assortment of pressure washing services that will leave you impressed and exceed your expectations with each job.
Check out our pressure washing services below:
Commercial Pressure Washing
Building Washing
Commercial Roof Cleaning
Parking Lot Cleaning
Sidewalk Cleaning
House Washing
Deck Cleaning
Driveway Cleaning
Fence Cleaning
Gutter Cleaning
Window Cleaning
More Than Pressure Washing
Our pressure washer team offers so much more than just pressure washing services. On our site, you can find helpful blog posts about pressure washing, home care and maintenance, as well as tips on how to best maintain your property. We're here to help you in every possible way that we can, and that starts with the right knowledge and experience that only United Restoration and Exterior Cleaning offers.
Why You Should Choose United Restoration and Exterior Cleaning
Choosing the right business to address your cleaning needs can be difficult. There is always more than one option. Here are some reasons to consider choosing our company for your exterior cleaning. We utilize the best equipment and cleaning detergents in the pressure washing industry. We have multiple systems in place to ensure we always have the right tools for the job. We support our equipment with state-of-the-art detergents to insure maximum cleaning potential using the least amount of pressure necessary. We have the knowledge and capability to actually restore your siding to a like-new appearance. If you're considering a deck restoration, we have restored and sealed aged and weathered lumber. Whether it's washing your home or cleaning gutters, windows, or driveways, you can rest assured we will produce the results you deserve using the safest cleaning techniques in the industry. Most of all, we back all of our services with a 100% satisfaction guarantee.
Services Anywhere You Are
Our pressure washer team is more than capable of coming out to your location to give you the best treatment and care. We are proud to be able to offer our services to a wide area, including the following places:
Bloomsburg
Danville
Lewisburg
Mifflinburg
Milton
Northumberland
Selinsgrove
Shamokin Dam
State College
Williamsport
If you live in any of those places and are ever in need of quality services, please contact United Restoration and Exterior Cleaning today to get started.
PROTECT YOUR PROPERTY FROM GRIME! SCHEDULE QUALITY PRESSURE WASHING IN State College & THE SURROUNDING AREAS!